FlexTILT Head 3D
3D printable version of our best-selling tripod head, FlexTILT Head 3D is the ultimate pan & tilt solution to frame your shots easily and freely.
Creative features
in one package
FlexTILT Head 3D is the 3D printable version of our best-selling tripod head. It's the ultimate pan & tilt solution to frame your shots easily and freely.
NO BUTTONS. NO LOCKS. NO KNOBS. The joints on FlexTILT Head 3D use edelkrone's one-of-a-kind constant friction technology.
Gives instant height adjustment without dealing with the tripod. Easily pulls out as needed, and adjusts to the exact position you want.
Extend your camera beyond obstacles or easily setup bird's-eye-view shots.
Increase your dolly in/out range with any slider.
Unlike other camera heads, FlexTILT Head 3D can also work on flat surfaces as a camera stand without the need for legs.
Achieve precise panoramas with pan marking and lens center shifting.
Recommended camera load: 5.5 lb (2.5 kg) or less.
Reviews
Find and read inside stories from users like you!
Customer Reviews
Write a Review
Ask a Question
I love it
Thank you do much
03/27/2022
Cesare M.

Austria
Clever fusion of 3D printed parts and metal nodes
The Aluminium parts come really well machined and packaged. With a good 3d printing of the frame parts the final assembly is flawless with perfect tollerance between parts. With less parts to transport to the owners this could be an interesting path for the future. When the 3d printer will be able to make also the metal parts the circle will close.
10/13/2021
Mike M.

Australia
Tilt head for close up photogammetry
Printed the parts at 100% fill and high quality and the finished product looks and functions very well. Hardware supplied in good time and was of excellent quality. Recommend a change to one of the parts which adds a holder for the Allen key. STL file can be found in Thingiverse, search "Edelkrone FlexTilt 3D Magnetic Allen key". 2 x 5mm diameter magnets needed.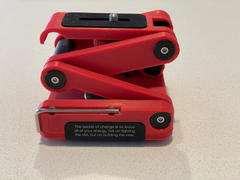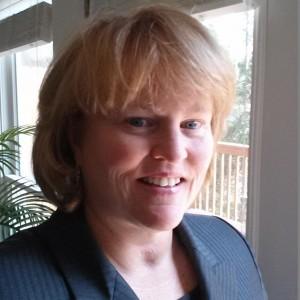 MH
07/13/2021
Maureen H.

United States
12/30/2020
Jim K.

United States
What a great thing!
Piece of cake. Works real well as long as I keep the Allen key handy. Thanks.
12/10/2020
Vincent L.

Canada
FlexTILT Head 3D
The quality of the parts sent to me is exceptional. I haven't print the remaining parts yet because I'm still waiting for my 3D printer.
10/23/2020
Kristi W.

United States
Flex Tilt Head 3D
I recently tested this out in our scanning lab and it has worked really well so far. We'll see how it holds up over time. It held my DSLR and various lenses with no problem. However, I wish it was a bit easier to adjust instead of relying on the allen wrench provided. Perhaps a future design could consist of adjustment knobs.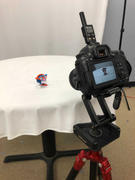 10/13/2020
Steve J.

United States
Awesome
I read and watched a number of reviews before ordering this. The price, with shipping seemed a little high for the few parts that were shipped. I was wrong. The quality of the parts was outstanding. Once I considered the obvious time and care in developing the 3D printed parts .The price is a real bargain. I printed mine at %90 infill using PLA. I was extremely impressed with the design. I have not experienced any of the weakness I read an heard about in the reviews. I hope you have more products in development.
08/18/2020
Ron J.

United States
2nd one....every bit as excellent as the first one.
I purchased the 3D print kit and the files I printed came out perfectly. I like the construction so much I purchased the company....not really. I purchased another tilt head. They are absolutely perfect for a web cam when you are doing zoom meetings. They are stable, you can point them any place and they stay. They are perfect for showing products you want to demonstrate. I love mine!!! So much so that I purchased another. There was a shipping goof up on my first one, and the company was quick to correct the problem, absolutely professional and well done. Thank to the gang at edelkrone.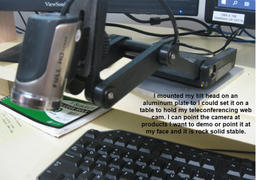 07/31/2020
Curtis W.

United States
awesome product and co-mfg concept
This was lots of fun to print and assemble. All of the parts fit together perfectly. Thanks so much for encouraging co-manufacturing to get this into my hands.
06/29/2020
Khanh L.

United States
I shouldn't waist my $ with this Plastic thing
Assembly was easy but I would rather have a real one!
06/02/2020
mack o.

United States
I'll just buy the product built next time
$60 and missing screws and frustration! I'm only mad at buying a 3D kit.. i will buy the real thing from here on out.
05/21/2020
Tzur l.

Israel
nice product but not greate as hoped for
printing was simple, delivery of other parts was fast. problem is it is very wobbly, the screws are very easy to open by the weight of the camera & lens (BMPCC 6K + Sigma 18-35 Art, total of 3.8 lb) and makes it unstable and dangerous to use because it can flip in a second. also it does not allow to set a pose and have a steady shot, the friction can't hold it. in the specs it says Max. load up to 5.5 lb. 3.8 its not that close to the limit, so it is very annoying. i would not recommend this item for setups over 2.5 lb, which is higer than most professional camera-lens setups. maybe the regular (Aluminium) version is better, i can't tell.
05/15/2020
Luke F.

Australia
Went through hoops to actually
Went through hoops to actually get pieces that fit the system two re orders of the m screws and one plate replacement no damage just didn't fit early QA issue I assume
05/10/2020
Anthony D.

United States
3D printed
It was light after 3D printing it. It worked better than I expected!
04/12/2020
Dwayne N.

United States
Don't
Just save your some time and don't buy!
04/07/2020
Nate M.

United States
3D Printed FlexTilt Head 3D
The FlexTILT Head 3D was a great product to print and use! I have to say that Edelkrone is revolutionary in this 3D printing process. No other company that I have seen allows you to 3D parts like this. I myself am an engineer, and this product taught me how to 3D print which was really neat. In the field, this product performed extremely well. I would definitely recommend printing in white PLA. Looks very sharp and is well contrasted with the black parts.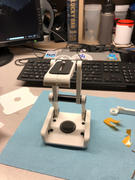 03/11/2020
gary P.

United States
Flex tilt print
I used an I Mega 3 and the print went well. There were a couple of pieces that were a tight fit for the metal end caps....I am sure it is printer variation, but it was so close that a very tiny increase in the dimensions by make it easier to print for others. It looks like it will be fairly sturdy, If teflon washers would work instead of the delrin like ones it would be a good substitution. Charge 1 or 2 dollars more. It should make the adjustment a little smoother. Overall its a great concept, I would consider building more of these print it yourself kits. Something that might work well would be a manual slider, with an option to upgrade to motorized.
12/31/2019
William F.

United States
3D print with excellent components
It works very well and is solid. I did print the parts in PetG since I don't want any chance of it getting soft if left in the sun. The design of the 3d printed parts is very good and tolerances are perfect! One thought might be to offer a version that can be annealed. The parts would need to be modified slightly since annealing would cause dimension changes in x, y or z. But it would make them much stronger and when PLA is annealed it handles high tempratures as well.
12/11/2019
David O.

United States
Almost perfect, but not quite.
All of the metal (ordered) parts fit perfectly. Unfortunately, the printed parts were off by 2mm in the Z direction across the board. My printed parts matched the size perfectly according to my caliper. So I redesigned the base (smaller), the center 2 parts (larger) and then added another user's magnetic design (modified to have 3 magnets). Here is the Thingiverse link. https://www.thingiverse.com/thing:4024042